My husband and I are not huge NBA fans, but today we watched the NBA Draft. And whether you like it or not, we are HUGE Kansas Jayhawk fans. And there is no doubt that the program there builds great ball players. I had to shed a tear tonight as we sat and watched Thomas Robinson selected 5th in the 1st round of the draft by the Sacramento Kings. This was probably not the 1st choice for Robinson who is from Washington, D.C., but it will allow him to provide for his little sister which was his goal from the beginning of this Draft season.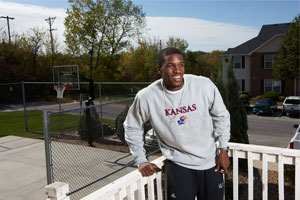 I don't care if you hate KU or if you hate basketball, but if you haven't heard this young man's story and you are capable of experiencing compassion, please take a few minutes to read this post.
It was his sophomore year and Thomas Robinson was playing for Kansas, not as a starter, he was still learning. But as his season went on, he was gaining more experience and more play time. Kansas was being led by Marcus and Markieff Morris who were the star twins on the Jayhawk team. Robinson became friends with the twins and their mother. This friendship would mean the world to him in the months to come. Robinson was being groomed by Coach Bill Self as there was already talk of the Morris twins going to the draft at the end of the season.
In December 2010, Thomas Robinson got news that his grandmother had died and just three weeks later his grandfather passed as well. Robinson was suffering from a lot of grief, but at his mother's insistence he stayed at school and continued playing. On January 21st, 2011, just a few weeks after losing both of his grandparents, Robinson received a voicemail from his little sister. On returning the call he learned that his mother had passed away as well.
Robinson continued his season with KU, working through his grief and gaining a little more playing time. The Morris twins left the team and entered the draft, meanwhile Robinson trained all summer and when he returned for his junior year, Robinson was ready to be a leader and lead he did. Scouts were watching and it soon became apparent that the Draft would be his focus. I am not a professional writer and I have not gone into great detail about this story – which was repeated several times over the following months during every KU game – but the story below is a must read:
http://espn.go.com/mens-college-basketball/story/_/id/7207167/ncb-kansas-jayhawks-center-thomas-robinson-used-basketball-help-tragedy-espn-magazine
My life went on as usual and one Saturday morning I went to get my oil changed at one of those quick oil change places and they had ESPN Magazine sitting on the counter. I picked it up when I saw Thomas Robinson. I flipped to the table of contents, found the page the story (link above) was on, flipped to the article and read. I had heard the story before, but seeing all the details in print held me to my seat.
As I read the story, I sat there in the lobby of this shop with big, greasy auto technicians all around, and I cried. I tried to conceal my tears, brushed them away with my fingertips, but I couldn't help it. I don't even think it was my maternal instincts that had me crying, it was simply the idea of all the heartache this one young man and his sister had gone through in the course of a month. It was the whole community of Lawrence, Kansas, the University of Kansas, the players and coaches and the NCAA itself that rallied around this young man, supported him, and gave him the strength to continue on.
The shop was finishing with my oil change, I paid for the service, and explained that I was going to sit back down so I could finish the article. The guy just smiled at me, he'd seen me crying earlier, and said, "no problem." I'm sure he was thinking that he wasn't going to get involved in whatever my problem was and was likely hoping I'd just hurry up and finish the magazine and leave. So I quietly finished the article, laid the magazine down, said thank you to the guy behind the counter, and left the building. I sat in my car and bowed my head and said a silent prayer – for Thomas and his sister and their future as well as a prayer of thanks that I'd never had to encounter such hardship as I wasn't sure I would make it through.
And now, 18 months after the start of Thomas Robinson's sorrow, he has something to celebrate. He has achieved something that would make his mother proud. My response is – Way to go, Earl. Now the mother in me has to say, be careful, be smart, and don't let it go to your head. Listen to those who have been in your place and made it through like Danny Manning and you will succeed in becoming a great man, a great ballplayer and a great brother.